Visit Corsica from Switzerland
Irresistibly beautiful. Surprisingly beautiful and surprisingly close. Whimsical rocky coasts, impressive mountains, green forests with blue mountain lakes, beaches that you only expect in the Caribbean, a fascinating history. Lots, lots of culture and special accommodations.

Corsica, we would like to introduce you to it...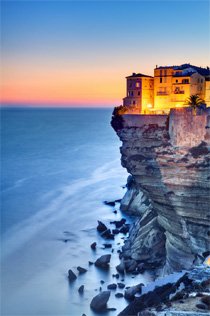 Corsica, Ile de Beauté, we would like to introduce you to it...
Booking your Corsica trip via Het Frankrijk Huis
In our collection of special holiday addresses, Corsica simply cannot be missed. This French island is a different world. The varied landscape is strikingly green, the sea everywhere azure blue and chrystal clear. It is the island of hidden bays, winding roads along the coast and inland, charming harbor towns and ancient mountain villages.

Corsica: granite cliffs and fragnant
You can call Corsica the beauty spot of motherland France. A wonderful island with 100 faces. A good starting point is Ajaccio, where the birthplace of Napoléon Bonaparte (1769) and a museum full of art treasures are brought together by his uncle Cardinal Fesch.

Along the widly winding coast…
Travel south via Filitosa – a mythical site from prehistoric times – and medieval Sartène, to Bonifacio, spectaculary situated on a high limestone spur. At the foot of the cliffs lies the harbor, which is full of cafés, shops and restaurants. At the coast you pass depp red coves, pearly white sandy beaches (Palombaggia) and chestnut forests (Castagniccia). Continue on to Bastia with its rectangular squares, high facades and almost tangible Mediterranean atmosphere, and then high along the cliffs of Cap Corse, to Calvi.

Nature is overwhelming everywhere
Both on the coast, where idyllic seaside resorts (sun, sand, sea, swimming, sailing ...) are numerous, and inland, you will see tropical palms, orange plantations, vineyards and olive groves and forests. But also dark mountain gorges (the GR walking route that runs across the island in length is considered one of the most difficult in France), mountain lakes and streams, granite, lime and chalk in all color variations.

And everywhere the maquis …
The typical Corsican dense scrub with powerful smelling myrtle. Did Napoleon sometimes hold a sprig of myrtle under his waistcoat so as not to miss the scent of his native island? Didn't the Romans have much trouble with the maquis?
Pride. Corsica is above all the island of the Corsicans who proudly show you photos of the fish they caught and the dolphins they spotted. They are happy to tell you where you can have a delicious lunch and which route you should not miss. Or where the most important choirs of the island occur. If you get the chance to attend a performance by a Corsican choir, then you shouldn't miss that. A preview:

Your stay in Corsica
A holiday in Corsica is making choices. Make many choices. Do you prefer to stay in an apartment, a holiday home, villa or a hotel? Do you want to see the whole island in one vacation or do you prefer to stay on one location? At the beach of the mountains or perhaps both? We help you making these choices.

Accessibility
How do you get to Corsica?
We advice you on that as well. With many years of experience we can organise your trip, your stay and help you on things to do, mustsees, since we know the island very well.
Corsica can be easily reached by plane from Geneva, Zurich and Basel.
Easyjet, Swiss, Helvetic and Air France offer several flight options to Ajaccio, Bastia, Calvi and Figari.
Just a one hour flight will bring you tot his pearl of France.

Car rental on Corsica
A car is - as everywhere in Corsica - recommended. From Favona, for example, you make a beautiful trip through the Bavella, a route of approximately 3 to 4 hours. Depending on the number of persons in your party, we give you a price quote for the duration of your stay on Corsica. This prices normally includes car rental including all insurances and extra costs. Except a possible 2nd driver and fuel. The driver should have a creditcard is his/her name and - off couyrse - a valid drivers license.

Info and reservations:
For more information and a price quote you can contact Daniëlle van Poppel:

+ by phone on +31235512291
+ mobile phone +31651411835
+ by e-mail to danielle@frankrijkhuis.nl